Ushers 60/- Pale Ale (1886)
For 1 gallon  (4.5 lt)     
O.G. 60
For 1 gallon (4.5lt):
   2.5 lbs (1135g)     Pale Malt
   0.75 oz (21g)        Hops
Mash grain for 3 hours* at 150º F (66±1º C). Raise temperature to 170º F (77º C) for 30 minutes.
Sparge with hot water at 180 – 185º F (82 – 85º C) to O.G. or required volume. 
Boil with hops for 90 minutes.
Cool and ferment with a good quality ale yeast.
Mature 3 months.  
*(Using modern malts the mash time can be reduced to 60 mins)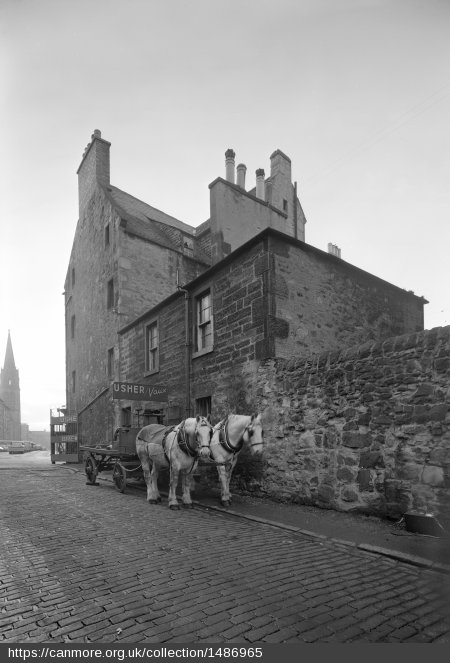 David Aikman & Co operated the Cowgate Brewery, Campbell's Close, Cowgate, Edinburgh, Scotland, from 1817 to 1828, followed by Hutchison, Aikman & Co from 1828 to 1831. The brewery was acquired in 1831 by James Usher & Cunningham, trading as Usher & Co from 1839 and J & T Usher from 1843. J & T Usher moved to the Park Brewery, St Leonard's Street, Edinburgh, in 1860.

Thomas Usher & Son Ltd was registered in March 1895 as a limited liability company to acquire the business. The company, along with 170 licensed houses, was taken over by Vaux & Associated Breweries Ltd, Sunderland, England, in 1959. Its name changed to Usher's Brewery Ltd in 1972 and in 1976 it employed 2,500 people and operated 235 tied houses. The Park Brewery was operated by Lorimer's Brewery Ltd from 1976 and was acquired by Allied Breweries Ltd, London, in 1980. Usher's Brewery Ltd went into liquidation and the Park Brewery ceased brewing in 1981.

Source:
Richmond, Lesley and Turton, Alison (eds), The Brewing Industry. A Guide to Historical Records, (Manchester and New York: Manchester University Press, 1990).