Usher's 60/- Pale Ale (1886)
O.G. 1.060
For 1 gallon (4.5lt):
   2.5 lbs (1135g) Pale Malt
   0.75 oz (21g)     Hops
Mash grain for 3 hours* at 150º F (66±1º C). Raise temperature to 170º F (77º C) for 30 minutes.
Sparge with hot water at 180 – 185º F (82 – 85º C) to O.G. or required volume. 
Boil with hops for 90 minutes.
Cool and ferment with a good quality ale yeast.
Mature 3 months.  
*(with modern malt the mashing time can be reduced to 60 minutes).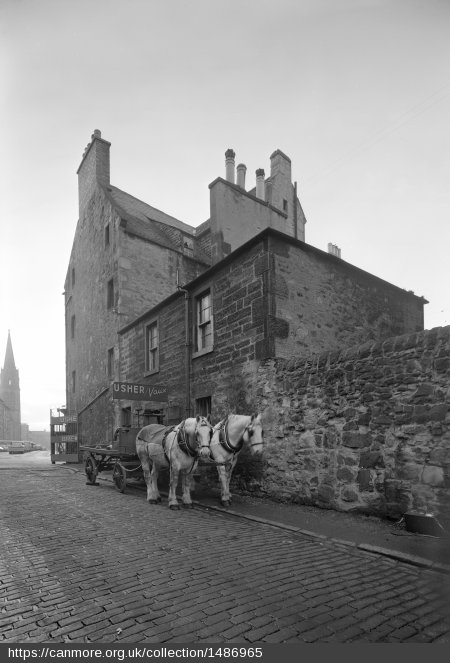 Castle o' Clouts seen from the entrance lane to Usher Brewery from NE, showing horse-drawn cart.
David Aikman & Co operated the Cowgate Brewery, Campbell's Close, Cowgate, Edinburgh, Scotland, from 1817 to 1828, followed by Hutchison, Aikman & Co from 1828 to 1831. The brewery was acquired in 1831 by James Usher & Cunningham, trading as Usher & Co from 1839 and J & T Usher from 1843. J & T Usher moved to the Park Brewery, St Leonard's Street, Edinburgh, in 1860.
Park Brewery, No 98 St Leonard's Street, Edinburgh was built from 1860 for James & Thomas Usher, who had been brewing in Chambers Street since 1831. In 1895 the business was reconstructed as Thomas Usher & Son Ltd. This firm was taken over by Vaux of Newcastle in 1960, and the Park Brewery was subsequently closed and demolished.  Though the address of the brewery was in St Leonard's Street, it was set back from the street, and ran parallel to railway sidings. The maltings were on the right, and the flat-roofed brewhouse on the left (see photo below). This was one of the last breweries to operate in central Edinburgh. Like most of the others it was a victim of a wave of rationalising amalgamations which swept Britain from 1959, and of declining demand for beer as manual labour was ousted by mechanisation in industry.
Thomas Usher & Son Ltd along with 170 licensed houses, was taken over by Vaux & Associated Breweries Ltd, Sunderland, England, in 1959. Its name changed to Usher's Brewery Ltd in 1972. In 1976 it employed 2,500 people and operated 235 tied houses. The Park Brewery was operated by Lorimer's Brewery Ltd from 1976 and was acquired by Allied Breweries Ltd, London, in 1980. Usher's Brewery Ltd went into liquidation and the Park Brewery ceased brewing in 1981.
98 St Leonard's Street, Park Brewery View from NW showing part of NNE front